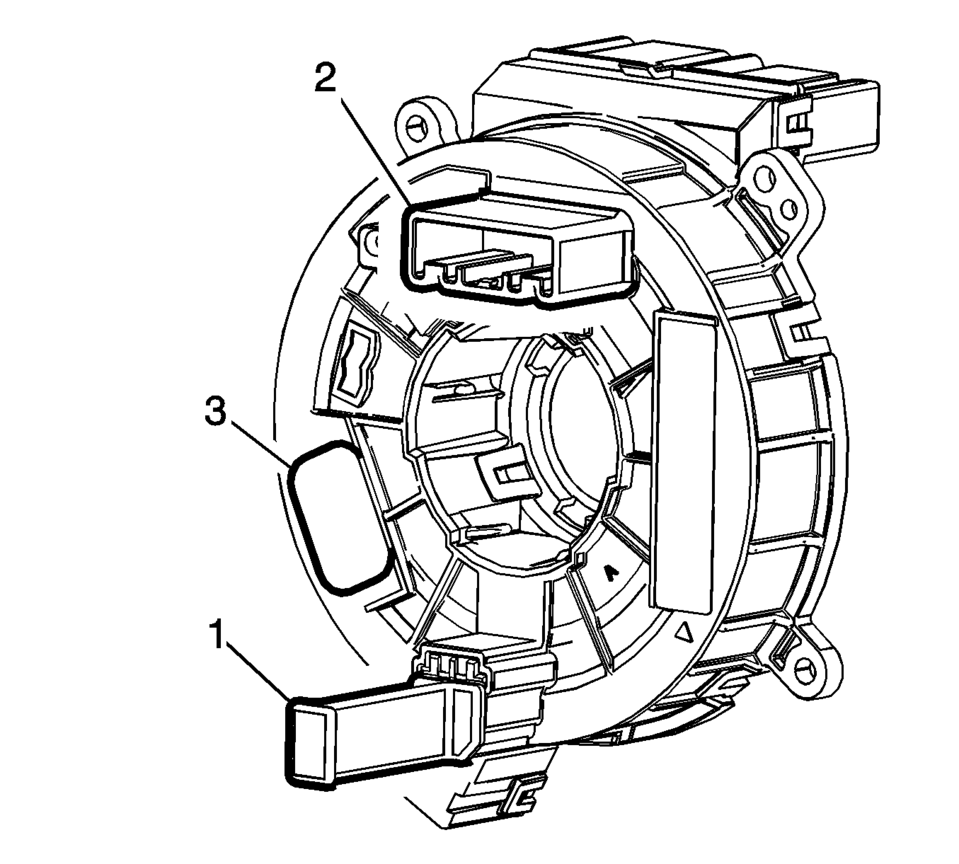 Chevrolet Cruze Repair Manual: Steering Wheel Inflatable Restraint Module Replacement
Removal Procedure
Warning: When carrying a live inflator module, make sure the bag opening is pointed away from you. This minimizes the chance of injury in the case of an accidental deployment. Never carry the inflator module by the wires. Never carry the inflator module by the connector on the underside of the module.
Make sure that the bag and trim cover are facing up whenever you place a live inflator module on any surface. This is necessary to provide a free space for the bag to expand in the unlikely event of accidental deployment. Never rest the steering column assembly on the steering wheel with the inflator module face down, and the column vertical. This may result in personal injury.
Warning: Refer to SIR Warning in the Preface section.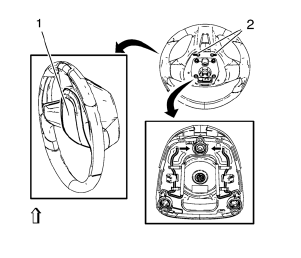 Disable the supplemental inflatable restraint (SIR) system. Refer to SIR Disabling and Enabling.
Insert suitable tools to the openings (2) on both sides of the steering wheel (1).
Release the springs in direction of the arrows.
Disconnect the electrical connectors.
Installation Procedure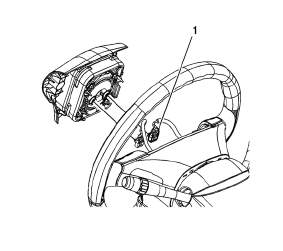 Connect the electrical connectors (1).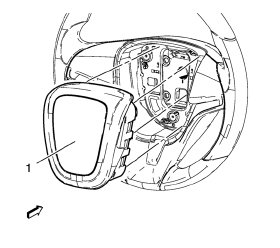 Align the steering wheel module fasteners to the steering column fastener holes.
Push the steering wheel module (1) firmly into the steering column in order the engage the fasteners.
Enable the SIR system. Refer to SIR 4. Disabling and Enabling.
After replacing the module, fully deploy the old module before disposal.
Other materials:
Climate Control Systems
The heating, cooling, defrosting, and ventilation for the vehicle can be controlled with these systems. Vehicles without Air Conditioning 1. Temperature Control. 2. Bi-level Air Mode. 3. Floor Air Mode. 4. Vent Air Mode. 5. Fan Control. 6. Driver and Passenger Heated Seats (If Equ ...
US English/Metric Conversion
Decimal and Metric Equivalents Arrows and Symbols This service manual uses various symbols in order to describe different service operations. Front of Vehicle View Detail View Detail Ambient Air Mixed with Another Gas or Indicate Temperature Chan ...
Recommended Fuel
Use regular unleaded gasoline with a posted octane rating of 87 or higher. If the octane rating is less than 87, an audible knocking noise, commonly referred to as spark knock, might be heard when driving. If this occurs, use a gasoline rated at 87 octane or higher as soon as possible.
Related news