Mazda 3 Service Manual: PID/Data Monitor Inspection [Two Step Deployment Control System]
1. Connect the M-MDS (IDS) to the DLC-2.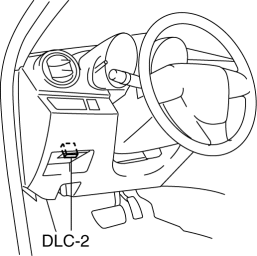 2. After the vehicle is identified, select the following items from the initialization screen of the IDS.
a. Select "DataLogger".
b. Select "Modules".
c. Select "RCM".
3. Select the applicable PID from the PID table.
4. Verify the PID data according to the directions on the screen.
NOTE:
The PID data screen function is used for monitoring the calculated value of input/output signals in the module. Therefore, if the monitored value of the output parts is not within the specification, it is necessary to inspect the monitored value of input parts corresponding to the applicable output part control. In addition, because the system does not display an output part malfunction as an abnormality in the monitored value, it is necessary to inspect the output parts individually.
Other materials:
Brake Pedal Removal/Installation
CAUTION: The clearance between the brake switch and the brake pedal is automatically adjusted to the correct amount when the brake switch is inserted into the installation hole on the brake pedal and rotated to fix in place. If the brake switch is not properly installed, the clearan ...
Seat Belt Extender
If your seat belt is not long enough, even when fully extended, a seat belt extender may be available to you at no charge from your Authorized Mazda Dealer. This extender will be only for you and for the particular vehicle and seat. Even if it plugs into other seat belts, it may not hold in ...
Neutral Switch Removal/Installation [G66 M R]
1. Remove the battery cover.. 2. Disconnect the negative battery cable. 3. Remove the battery component. (ex: battery, battery tray and PCM component). 4. Remove the aerodynamic under cover No.2.. 5. Drain the oil from the transaxle.. 6. Remove the neutral switch. 7.
Related news