Mercedes-Benz E-Class: Hazard warning lamps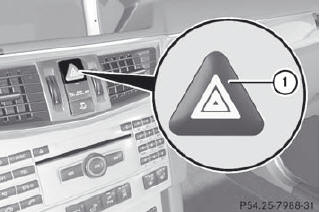 The hazard warning lamps automatically switch on if:
- an air bag is deployed.
- the vehicle is slowed down severely from a speed of over 45 mph(70 km/h) and comes to a halt.
•►To switch on the hazard warning lamps: press button 1.
All turn signals flash. If you now switch on a turn signal using the combination switch, only the turn signal lamp on the corresponding side of the vehicle will flash.
•►To switch off the hazard warning lamps:press button 1.
The hazard warning lamps are deactivated automatically if the vehicle returns to a speed of over 6 mph(10 km/h) after a full application of the brakes.
The hazard warning lamps still operate if the ignition is switched off.

High-beam flasher
•► To switch on: turn the SmartKey in the ignition lock to position 1 or 2 or start the engine. •► Pull the combination switch in the direction of arrow 3. ...

Cornering light function
The cornering light function improves the illumination of the road over a wide angle in the direction you are turning, enabling better visibility in tight bends, for example. It can only be ...
See also:

To sound the horn, press the mark on the steering wheel.
Related news