Mercedes-Benz E-Class: Maximum load rating

WARNING
Do not overload the tires by exceeding the specified load limit as indicated on the Tire and Loading Information placard on the driver's door B-pillar. Overloading the tires can overheat them, possibly causing a blowout. Overloading the tires can also result in handling or steering problems, or brake failure.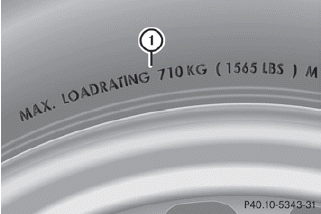 The actual values for tires are specific to each vehicle and may deviate from the values in the illustration.
Maximum tire load 1 is the maximum permitted weight for which the tire is approved.
Further information on tire loads

Trailer load/noseweight
The trailer load/noseweight affects the gross weight of the vehicle. If a trailer is attached, the trailer load/noseweight is included in the load along with occupants and luggage. The trailer ...
See also:
Removing spots
Remove tar and oil spots, industrial dust, insects, and tree sap as quickly as possible from the surface of the paint to avoid lasting damage or staining. Special cleaning products are available a ...
Tire inflation pressure
Check the tire pressures (including the spare) often and always prior to long distance trips. The recommended tire pressure specifications are shown on the F.M.V.S.S./C.M.V.S.S.
Related news