Nissan Rogue Service Manual: Water hose
Exploded View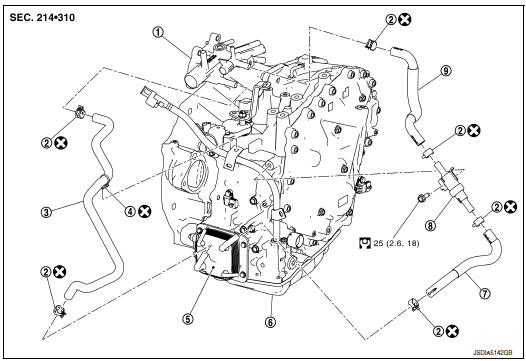 Water outlet
Hose clamp
Water hose A
Clip
CVT oil warmer
Transaxle assembly
Water hose B
Heater thermostat
Water hose C

: Always replace after every disassembly.


: N·m (kg-m, ft-lb)
Removal and Installation
REMOVAL
WARNING: Do not remove the radiator cap when the engine is hot. Serious burns could occur from high pressure engine coolant escaping from the radiator. Wrap a thick cloth around the cap. Slowly turn it a quarter turn to allow built-up pressure to escape. Carefully remove the cap by turning it all the way.
CAUTION: Perform when the engine is cold.
NOTE: When removing components such as hoses, tubes/lines, etc., cap or plug openings to prevent fluid from spilling.
Remove battery tray. Refer to PG-76, "Removal and Installation (Battery Tray)".
Remove engine under cover. Refer to EXT-16, "Exploded View".
Remove CVT fluid charging pipe. Refer to TM-220, "Exploded View".
Remove fender protector side cover. Refer to EXT-28, "FENDER PROTECTOR : Exploded View".
Remove water hose A, B, C, and heater thermostat.
INSTALLATION
Installation is in the reverse order of removal.
CAUTION:
Do not reuse hose clamps.
Do not reuse hose clip
Securely install the water hose clip to the bracket hole of charging pipe.
Refer to the following when installing water hoses.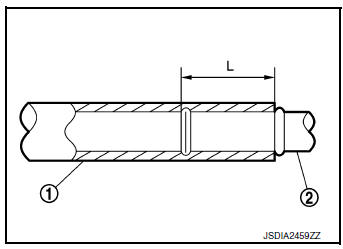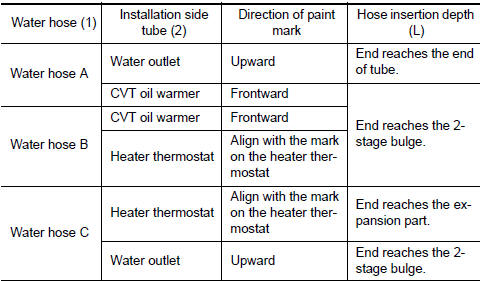 Refer to the followings when installing hose clamp.
CAUTION: Hose clamp should not interfere with the bulge of tube.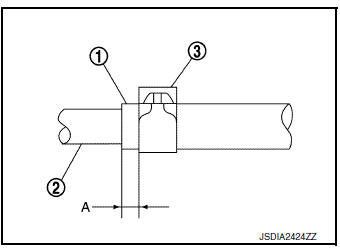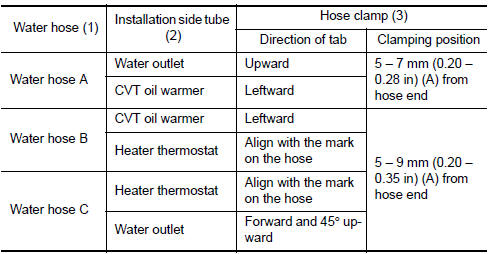 Inspection
INSPECTION AFTER REMOVAL
Heater Thermostat
Fully immerse the heater thermostat 1 in a container (A) filled with water. Continue heating the water while stirring.
Continue heating the heater thermostat for 5 minutes or more after bringing the water to a boil.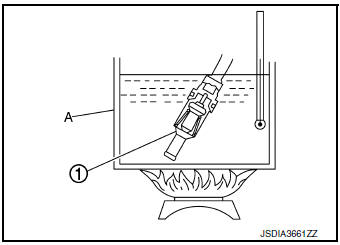 Quickly take the heater thermostat out of the hot water, measure the heater thermostat within 10 seconds.
Place dial indicator (A) on the pellet B and measure the elongation from the initial state.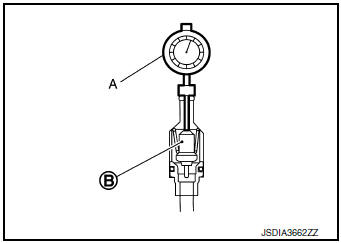 Standard : Refer to TM-226, "Heater Thermostat".
If out of standard, replace heater thermostat.
INSPECTION AFTER INSTALLATION
Start the engine, and check the joints for coolant leakage.
Related news