Nissan Sentra Service Manual: Headlamp
Aiming adjustment
Preparation before adjusting
Before performing aiming adjustment, check the following:
Ensure all tires are inflated to correct pressure.
Place vehicle and screen on level surface.
Ensure there is no load in vehicle other than the driver (or equivalent weight placed in driver's position).
Coolant and engine oil filled to correct level, and fuel tank full.
Remove cargo and/or luggage to maintain an unloaded vehicle condition.
Confirm spare tire, jack and tools are properly stowed.
Carefully wipe off any dirt from headlamp lens.
Caution:
Do not use organic solvent (thinner, gasoline etc.)
Place a driver or equivalent weight of 68.5 Kg (150 lb) on the driver seat.
By hand, bounce the front and rear of the vehicle to settle the suspension and eliminate any static load.
Place the front tires in the straight ahead position.
Aim each headlamp individually and ensure other headlamp beam pattern is blocked from screen.
Note:
For headlamp aiming details, refer to regulations in your area.
By regulation, no means for horizontal aim adjustment is provided from the factory; only vertical aim is adjustable.
Use adjusting screw to perform aiming adjustment.
Perform headlamp aiming if:
The vehicle front body has been repaired.
The front combination lamp has been removed or replaced.
Any outfitting has been installed.
The vehicle's standard load condition has been substantially increased.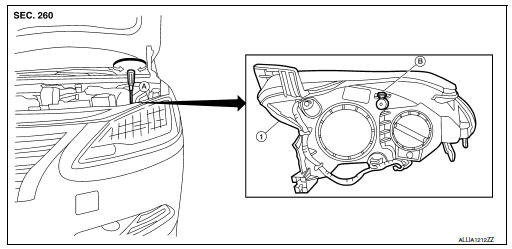 Front combination lamp
Suitable tool (for aiming adjustment)
Adjusting screw
Aiming adjustment procedure
Position the screen.
Note:
Stop the vehicle facing the screen
Place the screen on a plain road vertically.
Face the screen with the vehicle. Maintain 10 m (33 ft) between the headlamp bulb center and the screen.
Start the engine. Turn the headlamp (lo) on.
Caution:
Do not cover the lens surface with tape, etc. The lens is made of resin.
Note:
Aim each headlamp individually and ensure other headlamp beam pattern is blocked from screen.
For horizontal aiming, adjust headlamp until beam pattern is at horizontal center point.
Right
Left
Center of headlamp bulb (H-V point)
Cutoff line
Screen
Aim evaluation segment
Step
Horizontal center line of head lamp
30 mm (1.18 in)
4 mm (0.16 in)
10 m (33 ft)
480 mm (18.90 in)
160 mm (6.30 in)
Vertical center line of headlamp
Basic illuminating area for adjustment should be within the range shown on the aiming chart. Adjust headlamps accordingly.
Related news