Toyota Camry: Turning on the high beam headlights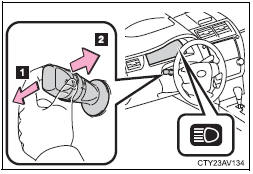 1 With the headlights on, push the lever away from you to turn on the high beams.
Pull the lever toward you to the center position to turn the high beams off.
2 Pull the lever toward you and release it to flash the high beams once.
You can flash the high beams with the headlights on or off.

Headlight switch
The headlights can be operated manually or automatically. Turning the end of the lever turns on the lights as follows: U.S.A. (type A) The daytime running lights turn on. The side marker, ...
See also:
Tire Maintenance
Improper or inadequate vehicle maintenance can cause tires to wear abnormally.
Related news