Toyota Highlander Service Manual: Steering sensor
REPLACEMENT
1. PRECAUTION (SEE PAGE 60-1 )
2. DISCONNECT BATTERY NEGATIVE TERMINAL
3. PLACE FRONT WHEELS FACING STRAIGHT AHEAD
4. REMOVE HORN BUTTON ASSY (SEE PAGE 60-17 )
5. REMOVE STEERING WHEEL ASSY (SEE PAGE 50-8 )
SST 09950-50013 (09951-05010, 09952-05010, 09953-05020, 09954-05021)
6. REMOVE STEERING COLUMN COVER UPR (SEE PAGE 50-8 )
7. REMOVE SPIRAL CABLE SUB-ASSY (SEE PAGE 60-26 )
8. REMOVE STEERING SENSOR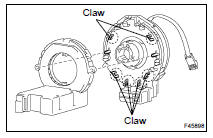 (a) Release 6 claw fittings and remove the steering sensor from the spiral cable.
9. INSTALL STEERING SENSOR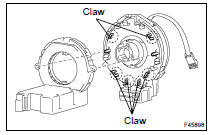 (a) Install the steering sensor to the spiral cable.
NOTICE:
Install the claw securely.
Do not damage the claw.
10. ADJUST CENTER FRONT WHEEL
11. INSTALL SPIRAL CABLE SUB-ASSY (SEE PAGE 60-26 )
12. CENTER SPIRAL CABLE (SEE PAGE 60-26 )
13. INSTALL STEERING WHEEL ASSY (SEE PAGE 50-8 )
14. INSTALL HORN BUTTON ASSY (SEE PAGE 60-17 )
15. INSPECT STEERING WHEEL CENTER POINT
16. INSPECT HORN BUTTON ASSY (SEE PAGE 60-1 1)
17. CONNECT BATTERY NEGATIVE TERMINAL
18. INSPECT SRS WARNING LIGHT (SEE PAGE 05-1207 )

Yawrate sensor
REPLACEMENT NOTICE: Do not use the yawrate sensor if it is dropped or damaged. Prevent foreign matter from attaching between the yawrate sensor bracket and body. Confirm the sensor directi ...

Parking brake system
PROBLEM SYMPTOMS TABLE Use the table below to help find the cause of the problem. The numbers indicate the priority of the likely cause of the problem. Check each part in order. If necessary, repl ...
More about Toyota Highlander:
Engine (3MZ-FE)
INSPECTION 1. INSPECT ENGINE COOLANT (See page 16-20 ) 2. INSPECT ENGINE OIL 3. INSPECT BATTERY (See page 19-36 ) 4. INSPECT AIR CLEANER FILTER ELEMENT SUB-ASSY 5. INSPECT SPARK PLUG (See page 18-9 ) 6.
Related news