smart key system) - Steps to take in an emergency - When trouble arises Toyota RAV4 Owners Manual: If the electronic key doesnot operate properly(vehicles with asmart key system) Toyota RAV4 Owners Manual: If the electronic key doesnot operate properly(vehicles with asmart key system)
Toyota RAV4 Owners Manual: If the electronic key does not operate properly (vehicles with a smart key system)
If communication between the electronic key and vehicle is interrupted ("_p. 107) Or the electronic key cannot be used because the battery is depleted, the smart key system and wireless remote control cannot be used. In such cases, the doors can be opened and the engine can be started by following the procedure below.
Locking and unlocking the doors
Use the mechanical key In order to perform the following operations:
Locks all the doors
Unlocks the door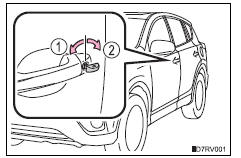 Turning the key rearward unlocks the driver's door. Turning the key once again within 3 seconds unlocks the other doors.
Starting the engine
Ensure that the shift lever is in p and depress the brake pedal.
Touch the toyota emblem side of the electronic key to the engine switch.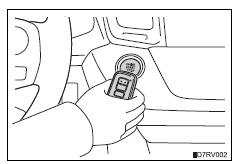 When the electronic key is detected, a buzzer sounds and the engine switch will turn to ignition on mode.
When the smart key system is deactivated in customization setting, the engine switch will turn to accessory mode.
Firmly depress the brake pedal and check that the smart key system indicator light (green) turns on.
Press the engine switch.
In the event that the engine still cannot be started, contact your toyota dealer.
Stopping the engine
Shift the shift lever to p and press the engine switch as you normally do when stopping the engine.
Replacing the key battery
As the above procedure is a temporary measure, it is recommended that the electronic key battery be replaced immediately when the battery is depleted.
Changing engine switch modes
Release the brake pedal and press the engine switch in step 3 above.
The engine does not start and modes will be changed each time the switch is pressed
When the electronic key does not work properly
Make sure that the smart key system has not been deactivated in the customization setting. If it is off, turn the function on.
Check if battery-saving mode is set. If it is set, cancel the function.
Other materials:
Removal
Hint: Use the same procedures for the rh side and lh side. The procedures listed below are for the lh side. Caution: Be sure to read the precautionary notices concerning the srs airbag system before servicing it (see page rs-1). Disconnect cable from negative battery terminal Cauti ...
Active test
Hint: Performing an active test enables components including the relays, vsv (vacuum switching valve) and actuators, to be operated without removing any parts. The active test can be performed with the intelligent tester.
Related news