Volvo S60: Installation
1. Lower the battery into the battery box.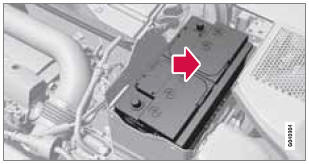 2. Move the battery inward and to the side until it reaches the rear edge of the box.
3. Tighten the clamp that secures the battery.
4. Connect the ventilation hose.
> Be sure that it is correctly connected to the battery and the vent in the vehicle's body.
5. Connect the red positive cable.
6. Connect the black negative cable.
7. Press in the rear cover. (See Removal).
8. Reinstall the molding. (See Removal).
9. Reinstall the front cover and secure it with the clips. (See Removal).

Rally bar R-Design models
Rally bar and bulkhead hatch Vehicles with the optional R-Design package are equipped with a rally bar in the engine compartment that must be removed before the battery can be replaced. 1.
Related news