Volvo S60: Overview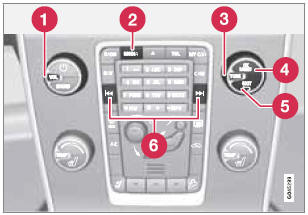 Center console control panel
VOL: Volume control
MEDIA button
TUNE: Turn to navigate among menu alternatives and folders shown in the display.
OK/MENU: Press to confirm your selection or access the menus.
EXIT: Press to go back in the menu structure or cancel a function.
Left/right arrow keys: Short press: change tracks. Long press: fast forward/reverse within a track. The arrow keys on the steering wheel keypad can be used in the same way.
MEDIA menu selections can be made from the center console or the steering wheel keypad.
See page 244 for more information about the infotainment menu system.
Related news